Lords Bot

Premium Lords Mobile Bot
Run hundreds of accounts effortlessly and seamlessly.
Download Now!
Tons of benefits
Lords Bot will maximize your time and account
Free Updates
Our product is constantly updated with the latest features
Hundreds of options
Fully configurable, set everything how you wish.
Slack Support
24/7 Support provided via Slack to all customers.
Save Time
Let us run your accounts for you.

#1 most popular Bot from Lords Mobile
Packed full of features
Guild Bank

Automate the accounting of guilds resources. Your guild can request resources when needed, ask for titles and see their hunt stats.

Resource Harvesting

The #1 in resource collection, gather safely with built in auto recalling and prioritize what you need to grow.

Advanced Reporting

Get information on your guilds hunt and purchase data. Plus track might, kills and much more! Makes guild management less of a headache so you can have fun instead!
Safety first
Your account is safe with us
Everything is ran and stored locally from your own PC or Server. We never touch your account data.
Real time stats
Get instant insight on what's happening in your guild
Instant deploy
Download and run our software within minutes
Easy to use
Our prouct comes with extensive documentation and 24hr Slack Support.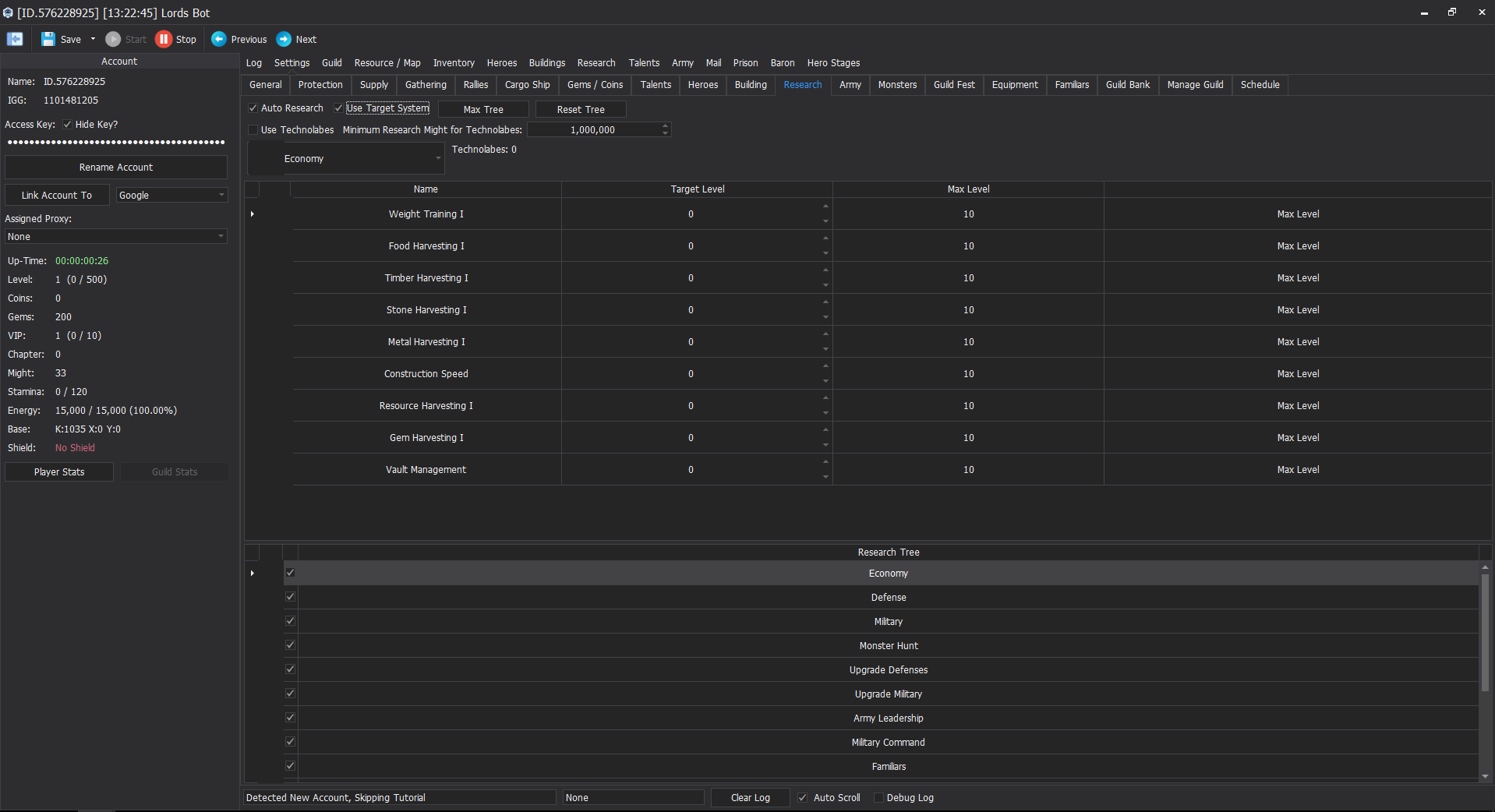 Thousands Rely on Lords Bot
These amazing stats can not be wrong, many happy customers around the world trust us to power their accounts
#1
The most popular choice
Easy to use
---
Lords Bot has been designed with a clean user interface so you can easily configure your account settings and supervise each profile from the account management tab
powerful Automation
---
Lords Bot allows you to; enable, disable and configure features at your will. 100% customizable settings.
Priority Support
---
Join our Slack server to receive blazing fast support from our staff. You can ask any questions you may have in our #support channel and get the help you need.
Bot Features
All features are available in both Basic and Full plans.
| Feature | |
| --- | --- |
| Auto Research, Building & Talents | |
| Auto Training (Traps & Troops, T5 Included) | |
| Auto Supplying | |
| Auto Shelter / Shielding / Gathering Protection | |
| Auto Mystery Box, VIP Chests, Guild/Admin Quests, Turf Quests & Mall Gifts | |
| Guild Management (Guild Chat, Create/Leave/Join Guild) | |
| Guild Gifts, Sending / Asking Help and Fortune Packets | |
| Auto Guild Bank | |
| Auto Gathering | |
| Auto Monster Hunting | |
| Auto Cargo Ship Trading | |
| Auto Speed-Ups (Building, Research, Training, Healing, Traps, Pacts, Wall) | |
| Auto Labyrinth & Kingdom Tycoon | |
| Auto Join Darknest Rallies | |
| Auto Familiars (Training/Skills/Pact Merging) | |
| Auto Heroes (Hire, Levelling Up, Enhancing & Upgrading) | |
| Auto Hero Stages/Chapters | |
| Auto Colosseum | |
| Inventory Management (Use Items Auto) | |
| Auto Treasure Trove | |
| Auto Skirmish | |
| Auto Guild Fest | |
| Auto Equipment Upgrading / Crafting / Switching | |
| Auto Guild Showdown | |
| All Player Gift Tracking / Statistics | |
| Offline Scheduling | |
| + Much More | |
Pricing
You won't get more bang for your buck then with Lords-Bot!
Pay annually and save big!
Choose Your Plan

Basic

Discounted Starter Plan

Full

For those serious about botting.

Monthly price


7.00



20.00


Purchase New Accounts ($7 each, one time fee)
Account Limit
2
Unlimited
Starting Accounts
2
5
Promotions
All Features
Free Product Updates
Prices are in USD.
Get Basic Plan
Get Full Plan
Do you have

questions?
Not sure on us yet?
Here are the answers to some of the most common questions we hear from our appreciated customers
Once you've opened the application, you will be greeted with an account screen. From here, you can register, login and reset your password if you forget it.
At present, we only support any version of Windows from 7.0 to 10.0 (64 Bit Only). You also require the .NET Framework 4.8 which can be downloaded here.
Once you've downloaded our application, simply extra the files from zip file and run LordsMobileBot.exe to get started
As soon as the transaction has been authorised through our payment system, your licence will have the respective time added. For any extra accounts, they will remain permanently bound for the lifetime of your licence, regardless of expiry status.
You can get all the help you need by joining our Slack Server. Please make an account if necessary. You can ask any questions you may have in our #support channel.
Start today
Download the App
What are you waiting for? Lords Bot is safe and secure, our 24hr free is waiting for you!
Lords Mobile Login Error 1 Disconnected
Source: https://lords-bot.com/